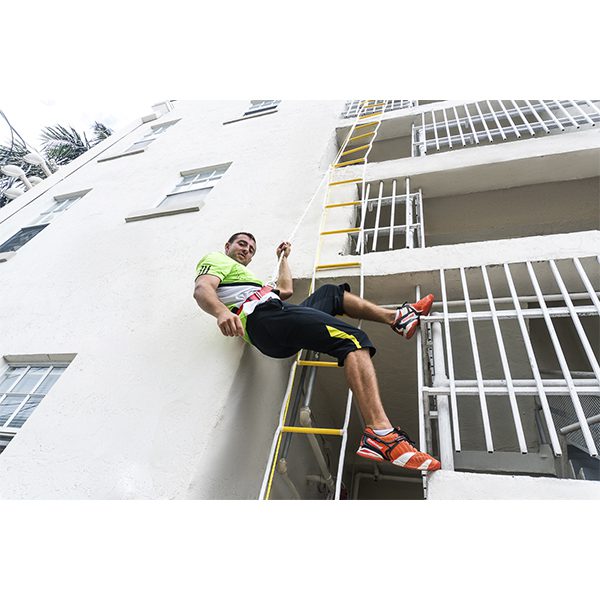 Do you know how to choose a fire escape ladder. As the adage goes, fire is a good servant and a bad master. Unfortunately, too many people have fallen victim to these fiery accidents causing them to lose their property, livelihood, and even their life. Fire accidents harm hundreds of people every day and cause thousands of deaths yearly across the country, which is a national disaster. At ISOP, we aim to change this statistical report by creating tools that will help save people's property and their lives.

THERE ARE APPROXIMATELY 70 MILLION TWO- AND THREE-STORY HOUSES ACROSS THE US, AND, ACCORDING TO THE HOME SAFETY COUNCIL, ONLY 6% OF THESE HOUSES HAVE FIRE ESCAPE LADDERS. THIS PERCENTAGE SHOULD BE HIGHER, WHICH MEANS THAT IF YOU DO NOT HAVE ONE IN YOUR HOME, THE PROBABILITY OF YOU FALLING VICTIM AND SUSTAINING INJURIES OR WORSE IN CASE OF A FIRE IS HIGHER. THE MOST IMPORTANT THING YOU COULD DO TO AVOID BEING PART OF THE STATISTICS IS GETTING YOURSELF A FIRE ESCAPE LADDER AND BE PREPARED.

Getting a ladder is essential, but getting the right ladder that you can rely on entirely in case of any emergencies is 100% more valuable. So, how do you go about the process of buying one? You should take several steps to ensure your ladder is of excellent quality and that you could rely on it with your life and that of your family.


WHAT MAKES A FIRE ESCAPE LADDER RIGHT FOR YOU?
In case of a fire emergency, your ladder should be long enough to get you to the ground. The longer it is, the better. You should take actual measurements regarding the height of your home and purchase a slightly longer ladder than the actual distance.
Your ladder should carry more than one and a half times the weight of the heaviest person in the house. Having a sturdy ladder means that it's reliable and can support whoever might be in the house at the moment of the accident. It also affords the user some extra weight capacity to carry down a small child or a pet.
EASY TO USE FIRE ESCAPE LADDER
Your emergency ladder should be easy enough for someone like a child, for instance, install and use. It should be light enough for you to carry around in the event of an emergency and simple, while at the same time, safe for you to hook it up to the window so that you can get out of the house as fast as possible.
COMPACTNESS AND QUICK DEPLOY
Your emergency ladder should be not only compact but also easily deployable for more accessible storage and convenience. A reliable ladder should be small enough to be stored in any place like under the bed or in the closet. You should also be able to get it out quickly, too, in case of an emergency.

There will never be an inconvenient time as to when you'd need to get out of the house in case of a fire to find your FIRE ESCAPE LADDER deploying improperly. Finding a ladder that you could use quickly may save you a few minutes, which will probably save your life.
Emergency rope ladders for kids should be durable, reusable, fire-resistant materials that can be used again after a fire accident. The ladders can be folded back and reused after an incident just as long as they didn't sustain any damages during the fire accident.
The ladder should be versatile and able to offer more than just a way down out of the house. Emergency ladders from ISOP offer just that. They have a safety belt that you can use to hook yourself to each rung after each step to ensure your safety as you climb down the ladder.
CONCLUSION
Emergency ladders are essential for any family to have, and they are not just for families that live in story buildings; every family should use them. Making sure you have one in your home means having one less thing that worries you.

Having them around is better for you because you'd never know when you might need them. They could be used in several other places in different circumstances too. So, get yourself an emergency ladder from a manufacture that you can trust. You'll thank yourself later.