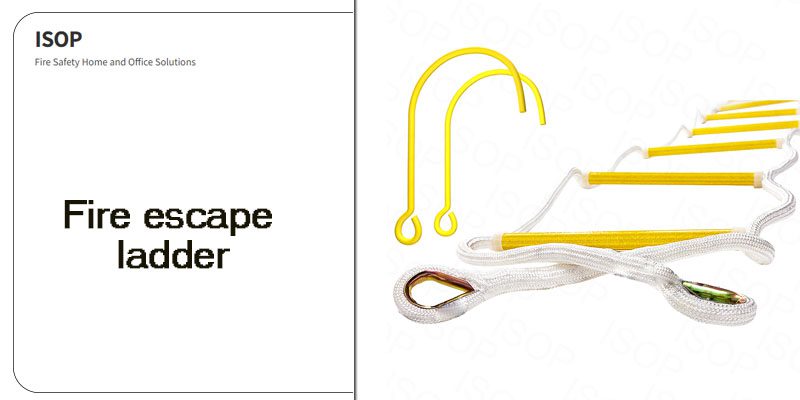 In the current world scenario, as human beings, we must always be prepared for the worst-case scenario. Any mishap could knock at your door at any time. Be it natural calamities, accidents or attacks, taking certain precautions will help us to reduce the intensity. How do you think you could safeguard your family in case a fire breaks out? To be able to protect your children and loved ones, you must know how to effectively use a fire escape ladder.
Considering the need of the hour and helping you prepare for emergencies, we've put together tips and tricks for using the fire escape ladder. You'd be shocked to find out how easy and convenient it is to handle. Read on to know more.
Escape Ladders
Before diving right into the topic, let's first understand what escape ladders are and their unique features. An escape ladder is an essential tool for any home as most of the houses don't come with escape routes. The best way from the house quickly while fire breaks out is an escape ladder. Each room in your home should have two ways to exit. It can be a combination of doors and windows. And if the room is on the second floor, you're going to need a dropdown fire escape ladder.
Just like any normal ladder, these escape ladders are carved out of sturdy plastic or aluminium or from a combination of both. You can choose a portable or permanent ladder at your convenience. While permanent ladders are attached to the house, portable ones can be stored away in a folded form.
How to use the escape ladder?
Portable escape ladders should always be stored near any one of the exits of the room. Most people usually prefer to keep it near the window. Proceed with a dry run after you buy the ladder. If you follow the following steps, using escape ladders will become very easy for you.
In the very first step, open the window and remove the screen. Make sure every person in your family can easily open the window without any trouble.
Take the fire escape ladder out from under the bed and unwrap it.
Once you're done unwrapping, start unfolding it by removing the strip that keeps the ladder together.
In the next step, throw the fire escape ladder out of the window by attaching the hooks with the window sill, and it'll drop down.
After that, re-check whether the hook of the ladder is firmly attached to the window sill or not. Also, make sure the wall braces are in the right place if included.
With the help of a chair, try to climb out the room from the window as if you're in a state of a fire emergency. Tightly hold the window sill, turn around and place your right foot on the ladder.
Before climbing down through the ladder, take a good look around to ensure no bushes, trees, or any kind of obstruction is preventing the ladder from touching the ground. The standouts of the ladder must touch the ground.
Hold the hooks tightly while climbing down the window sill.
Take baby steps, one step at a time, while holding the cable, side chains, or rungs while climbing down.
Try to make the process quick. Eventually, practice will make the process easier for you, and you'll get the hang of it.
Conclusion
If you take certain things in mind, using a dropdown fire escape ladder is not very tough to crack. Owning a fire escape ladder and knowing how to operate it will bring calmness to your mind. It gives an assurance that at times of emergency, you'll be able to save your near and dear ones through your skills.
Also, be very choosy while getting a fire escape ladder for your home. It should be strong, anti-slip, heat resistant, and with very strong standoffs. You can find a lot of articles over the internet that will guide you while purchasing a ladder for your home.
Call to Action
If you're looking to get your hands on the best fire escape ladders on the market, then ISOP is your one-stop solution. We provide you with a variety of options when it comes to fire safety. Our fire escape ladder is professionally designed and convenient. To make sure you have an instant tool to get out from the building, the ladder is made tangle-free and carefully packaged to release quickly.
Our carabiners are heavy-duty, which ensures a stable hold and can provide support up to 2500 lbs. The best part about shopping from us is the fact that we provide a return and refund policy which extends to 30 days. What more could you possibly ask? For further queries, you can contact us via mail at isopllc@gmail.com or fill up the contact form available at our website. We'll get back to you ASAP!