A warm, sunny day out hiking could suddenly turn into a stormy nightmare in a matter of minutes. Or on a lazy Sunday back home, you could find yourself in the middle of a catastrophic earthquake.
Life is full of uncertainties, and we never know what is going to transpire the next moment. Natural disasters and calamities can hit any of us in the blink of an eye without warning.
In the event of such calamities, do you and your loved ones have access to emergency supplies that could mean the difference between life and death?
The American Institute of Certified Public Accountants report that only one of three Americans are equipped with emergency supplies. The Federal Emergency Management suggests that every household must have emergency supplies that last at least 3 days in the event of a disaster.
We, at ISOP believe that rescue and survival kits should be available to everyone. Which is why we bring to you the best quality supplies for any emergencies at affordable prices. Here are all the emergency accessories you'll need to keep you and your family safe during any emergencies.
1. Survival Set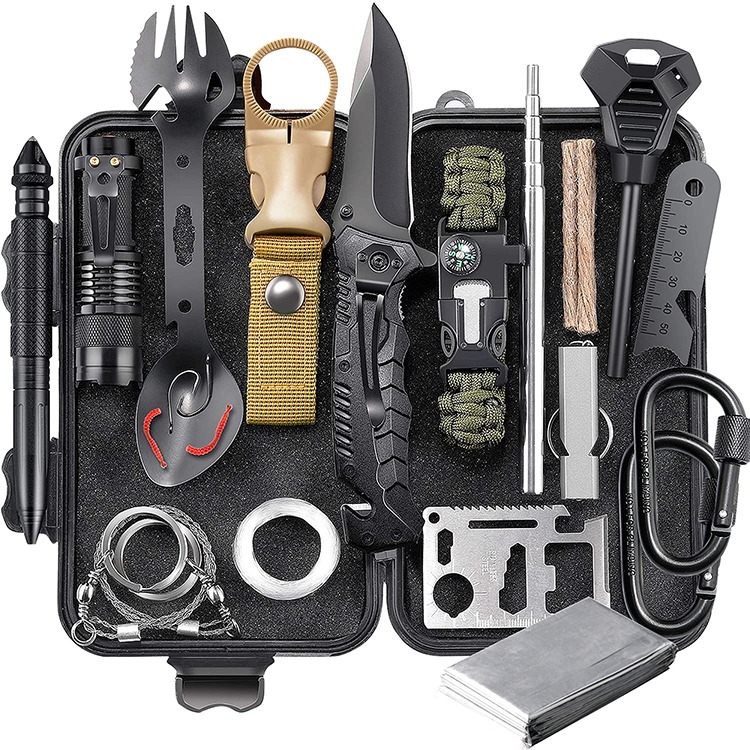 Our survival kit is so perfectly equipped that even if you find yourself in the shoes of Chuck Noland in Cast Away, you'll have the necessary tools to survive.
The kit consists of a flashlight, a multifunctional fire starter, blowpipe, whistle, saber card, multifunctional knife, multipurpose knife, fishing equipment, climbing hooks, hanging buckles and a wire saw.
This survival set is perfect for climbing, hiking, camping and emergency scenarios.
2. Rescue Blankets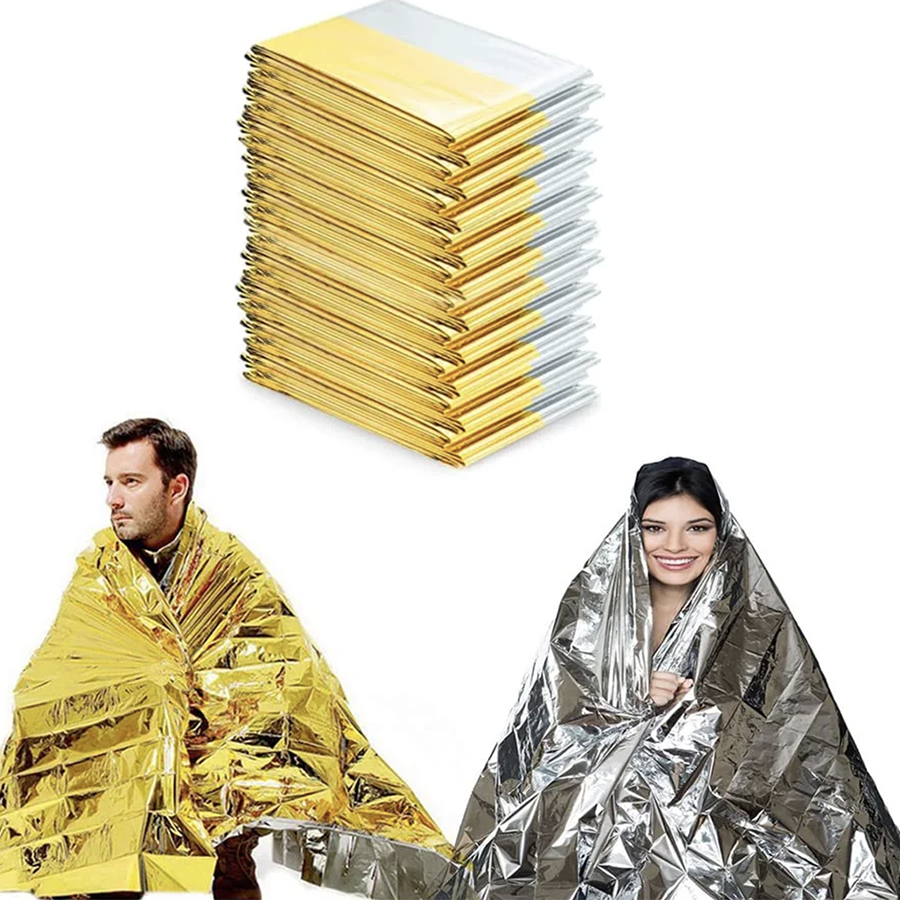 These emergency thermal blankets are a must-have for any survival kit. These survival blankets are double-sided.
The silver side reflects all the heat away, while the golden side absorbs the heat. An added bonus is that this survival blanket is made from waterproof material, making it an ideal choice for any weather condition.
They can also act as rescue blankets as the shiny golden side can be used to signal to rescuers in case you are trapped somewhere.
This is more than your average blanket that keeps you warm and dry. The best part? They weigh less than 2.5 Oz, or less than a deck of cards. So just put these in your survival backpack or your car in case you find yourself in the middle of nowhere with no gas in the tank.
3. Life-saving Tent Set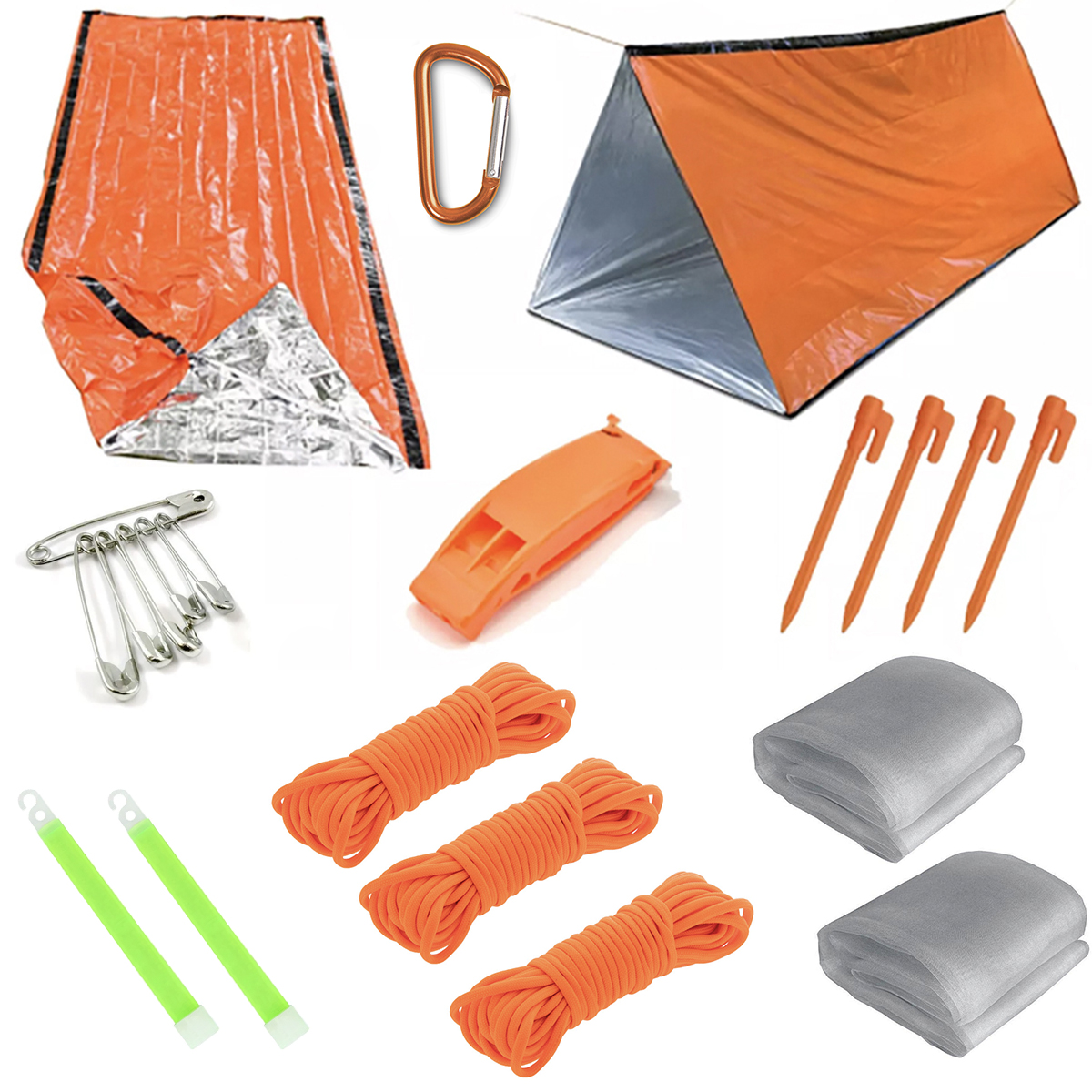 Whether you are climbing, hiking, camping outdoors or in a survival scenario, finding shelter against the harsh natural elements is priority number one.
A good life-saving tent should be lightweight, portable, and keep you nice, dry and warm. It should be easy to set up, windproof and provide thermal insulation.
The bright orange color can make it easier for rescue workers to locate you.
Our tent set comes with a rescue tent, safety pins, para chords, glow sticks, rescue blankets, harnesses, emergency whistle, and tent stakes.
4. Camping Stove and Silicone Coffee Mug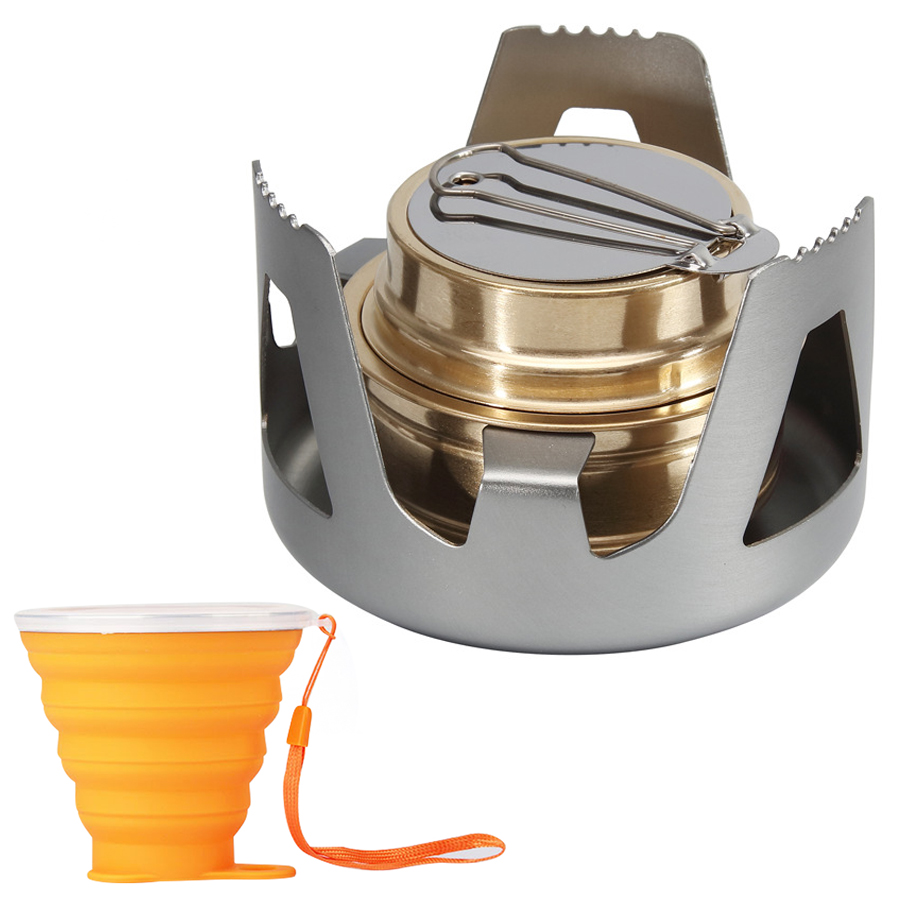 Made out of durable stainless steel, this sturdy burner is alcohol fuelled. This reliable camping stove gives out a nice even fire and can easily be extinguished by placing the cap back over the stove to smother the flames. It comes with a foldable handle flame regulator that lets you control the temperature. The silicon coffee mug is made of food grade silicon and has no harmful additives. To top it off, the cup is collapsible, giving you extra space to carry a couple extra munchies in your rescue backpack.
5. Backpacking Stove & Collapsible Coffee Mug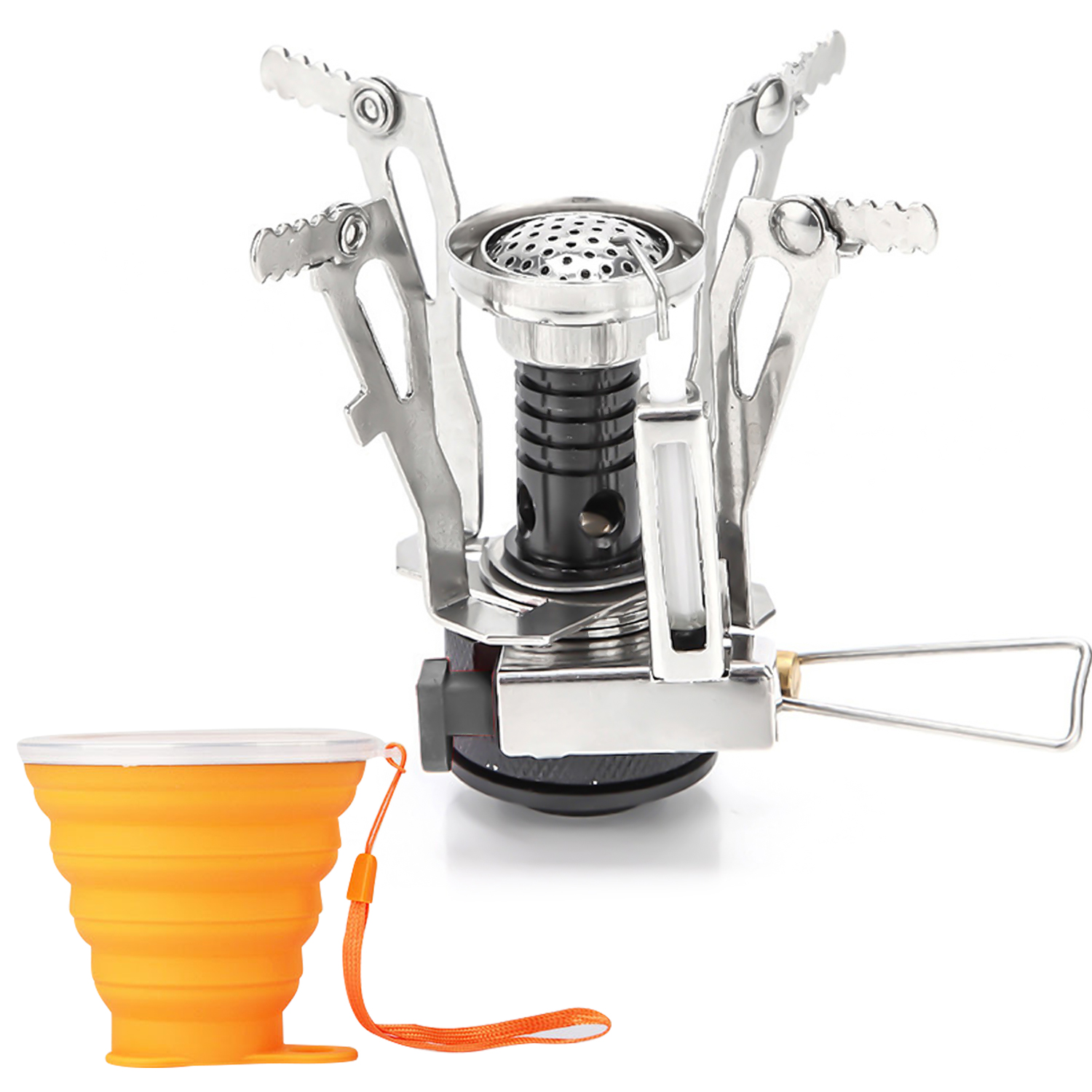 It doesn't matter if you're on a quick sunrise trek or a three-day hike, you might want to enjoy a hot cuppa joe or heat up some food. With the compact primus stove from ISOP, you can!
This lightweight, compact, foldable stove takes almost no space in your backpack. The set comes with a collapsible coffee mug.
6. Waterproof first aid box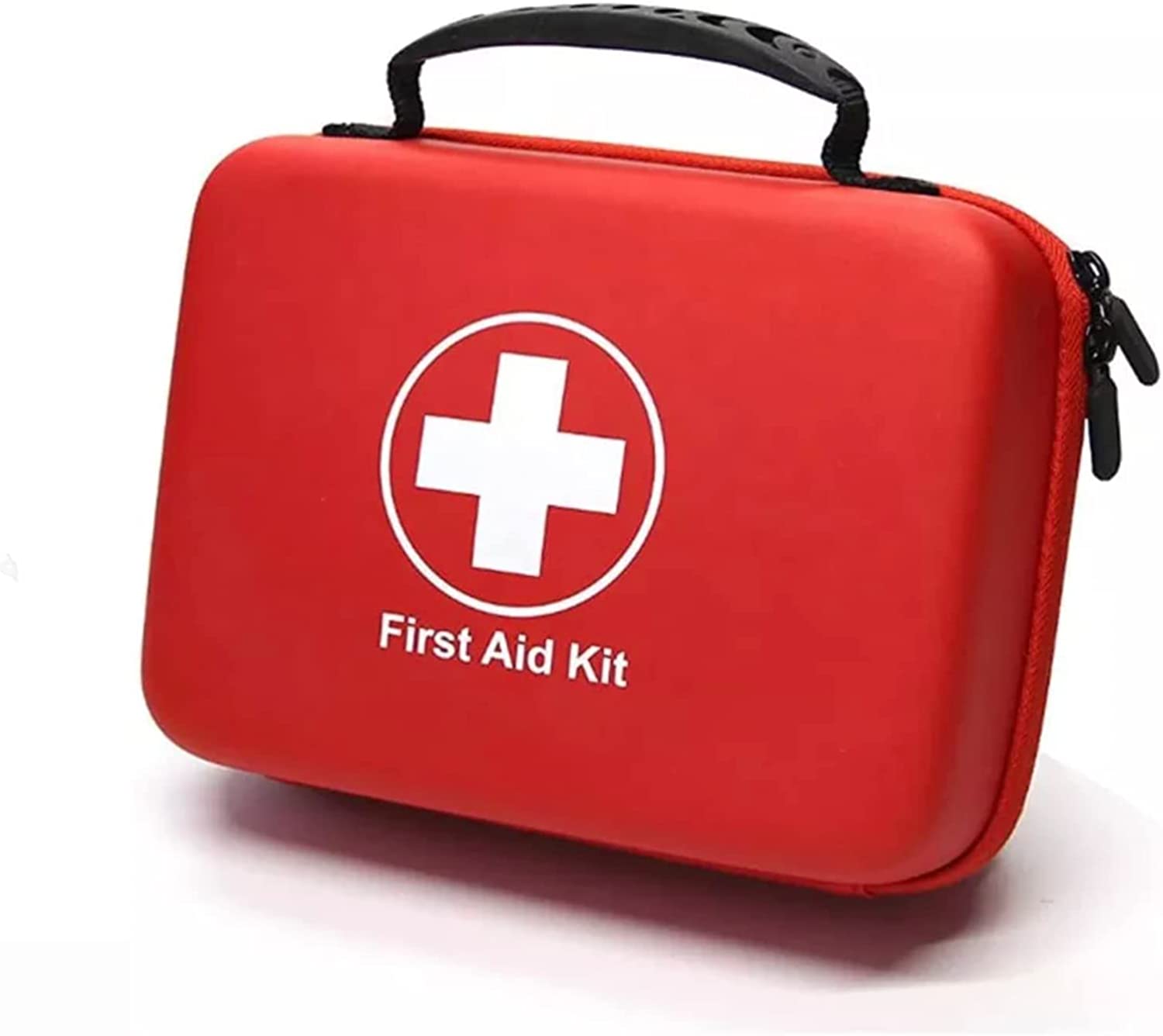 Burns, cuts, bruises, all these are very likely in the event of an emergency or survival scenario. Carrying a first aid box will enable you to treat these and more.
ISOP's Waterproof first aid box is ideal for camping, hiking, boat as it keeps the contents dry and the dirt away.
7. Emergency Fire Blankets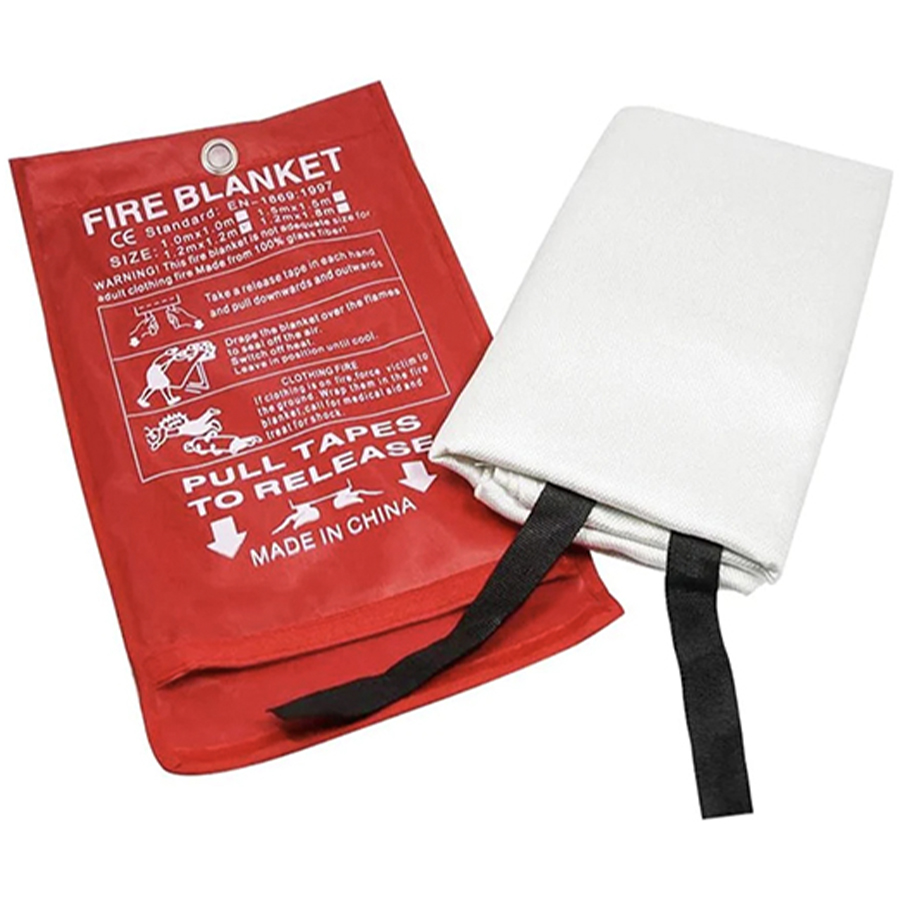 Small fires are quite common in kitchens and households. According to the National Fire Protection Association, more than one in every four reported fires occurred in homes. Worse yet, household fires account for three quarters of injuries and fatalities.
Cooking was found to be the leading cause of household fires. Well you certainly can't stop cooking, but here's something you can do, stock up on ISOP's Emergency Fire Blankets.
This fire blanket for home or kitchen will help you put out a fire in seconds. If the scenario worsens, you can use these as shields for you and your loved ones as you try to get away.
8. Emergency backpack set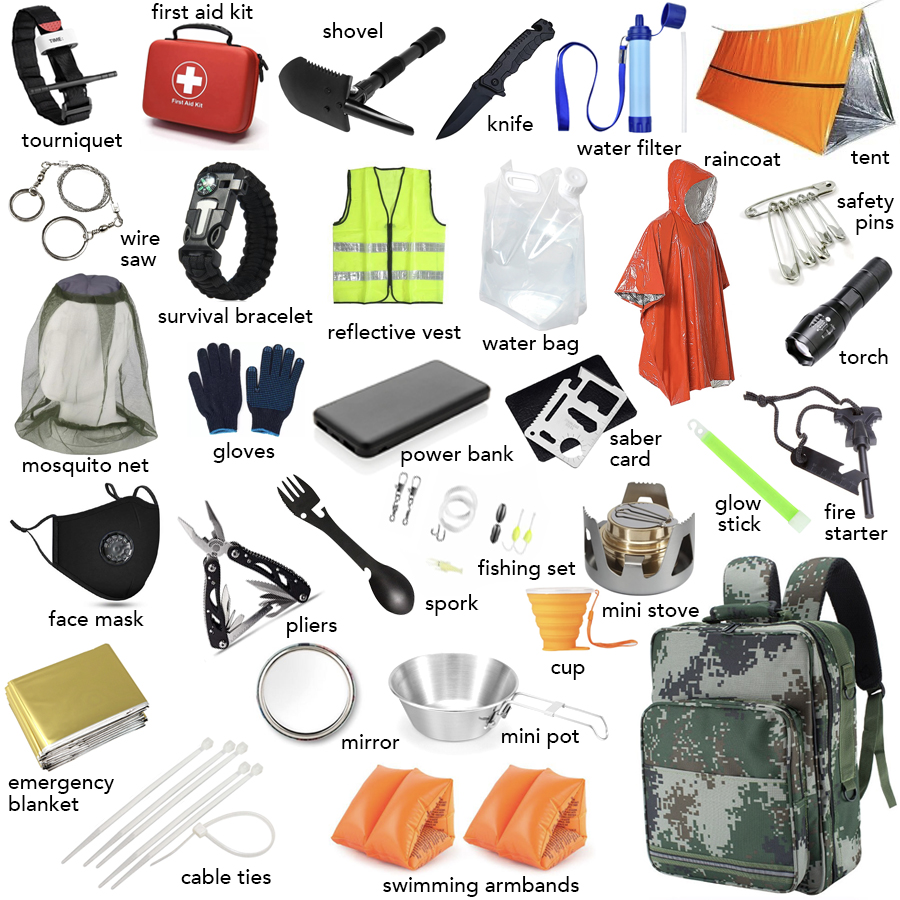 Tent, stove, fire blankets, survival guide, power bank, compass, a water filter, basically anything and everything you'll need to survive even in a post-apocalyptic scenario.
All this Emergency Stuff from ISOP and more can be bought from our online store, Amazon or even your nearest Walmart.