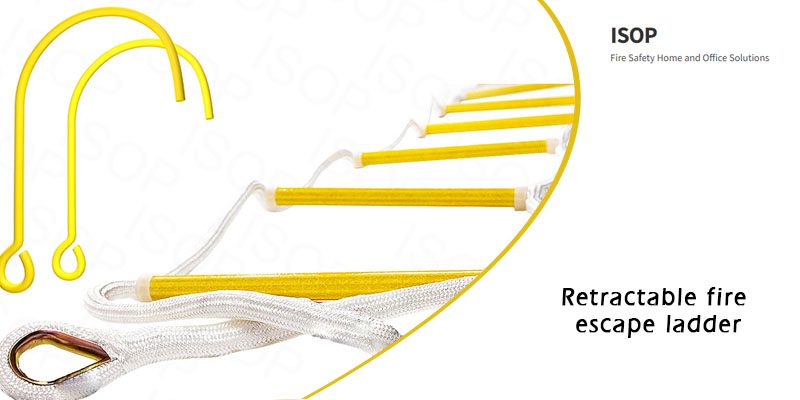 A Rope ladder for fire escape is basically equipment used in emergencies such as fire to get out of a building or space. It doesn't take much time to be deployed and neither does it demand any additional tools for assembling or setting it up. Many rope ladders come with non-slip resin, highly suited for children to use.
Usually, these ladders are foldable or collapsible; however, they require specially constructed windows with an escape ladder that features a box or some window frame that has an inbuilt fire escape ladder. Today, there is a wide range of designs of fire escape ladders available, catering to the diverse requirements of different households. Let us check out some of them:
Types of Rope Ladder for Fire Escape
Primarily, there are three different types of fire escape ladders. They are:
Foldable fire escape ladders
Foldable fire escapes are a product of rectangular plate stacking and a supportive rope. In many places of rope many times, metals are used since the former can get damaged in case of fire. Usually, these ladders move along the wall and go up straight to the windows. The casings of these letters are fixed with the window sills, so whenever there is an emergency situation, users can easily descend them.
These ladders can be stored in two ways- you can either stack them with the windows or carve a hollow space in the wall for storage. Usually, the ropes of these ladders are capable of withstanding high load capacity so that they can be used multiple times. Therefore many manufacturers use metal strips instead of ropes. Moreover, these metal strips are sufficiently tensile to support the weight of people. You can also avail of a flexible ladder that can extend from windows sales to the outside area of your house. Usually, these ladders are kept in a casing that is attached to the inner wall close to the window; they are wound up using the shafts when not in use.
Permanent fire escape ladders
Permanent fire escape ladders, also called retractable fire escape ladders, are made of metals and usually permanently attached to the outside wall of the buildings, so in case a fire outbreak happens, the residents can conveniently escape through them; usually, they are kept at the upper floors of the building.
As these are permanently built, there is always a risk of any stranger or intruder gaining an illegal entry into the house, so the owner should be vigilant about it. Another disadvantage of having these ladders is that they take up too much space for installation and can impact the house's aesthetics; therefore, you should carefully select your rope ladder.
Mobile escape ladder features mass placed upon the truck, which is capable of lowering the ladder as and when required.
These are some of the basic rope ladders for fire escape that are used in various situations. Now let us learn how to use fire escape ladders.
How to use Fire Escape Ladders?
Firstly, you should simply require a hook up the top of the ladder with the window seals and then hang the remaining of it outside the window pane. With the evolving technology, some of today's ladders come with stackable features to the window and can thus be wound up using shafts.
While purchasing a retractable fire escape ladder, you should make sure that the ladder is compatible with the size of your window. Apart from this, it is also recommended for family members to perform frequent drills to ensure the leather is functioning well and can be used during emergencies.
This is not it. You should look for different features while buying a suitable fire escape ladder; let us find out what are these features.
What are the features you should look for while buying a good fire escape ladder?
An ideal rope ladder for fire escape comes with certain features, which makes it reliable equipment for application from time to time. Let us consider some of the features that you should look at while buying one:
It should feature a standoff capable of holding the ladder rungs away from the wall side, thereby offering sufficient space for descending and making an exit faster and convenient. In simple words, the better the standoff, the better the ladder.
Usually, it is recommended that the load capacity of these ladders should be at least 1,000 pounds.
An ideal ladder should have an adjustable size to exhibit compatibility with the size of the window sills.
It should be tensile in nature in order to be continuously used without impacting its efficiency in any manner.
It should not occupy a lot of space and should be easily storable anywhere.
Generally, the cost of a permanent ladder is relatively higher than its portable counterparts. While buying, the buyer must decide what kind of ladder is perfect for his or her purpose and then make a call.
These are some of the features that you should look for while buying a retractable fire escape ladder.
Conclusion
Rope ladder for fire escape plays a crucial role in ensuring life safety in case of fire accidents; therefore, it is advisable to have one household, especially on the upper floors. Also, it is very important to choose the appropriate product according to your preference and the house's requirements.
Are you looking for a reliable rope ladder for a fire escape? ISOP is a one-stop platform where you can find a wide variety of fire evacuation retractable rope ladders available in different sizes as per the requirements of various buildings. At ISOP, we believe that every family must possess a fire ladder escape for emergency situations. Therefore, we have designed a whole series of emergency fire escape ladders that cater to the wide requirements of different households. To get in touch by email us at isopllc@gmail.com