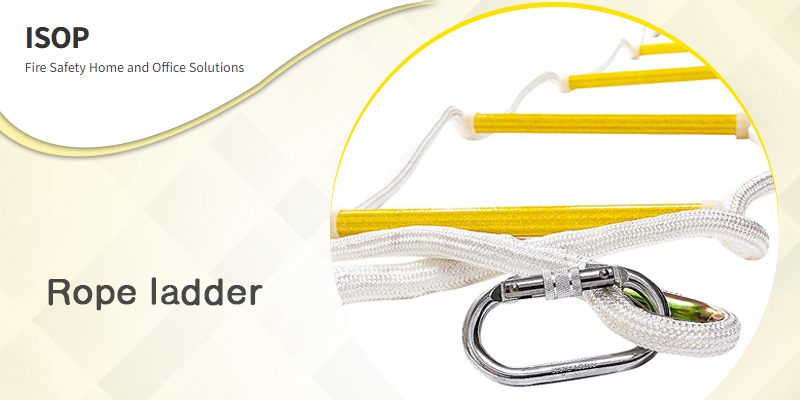 It's a possibility that no one wants to happen but everyone has to consider it for safety. Its fire. It is an emergency situation that can happen anytime and anywhere. Even with all the safety measures in place, sometimes a building cannot avoid a fire accident. Thankfully, there are a number of ways to escape a fire and one of them is using an emergency role ladder.
Safety rope ladder is must for every home. If you live in a building, above first floor, a rope ladder can keep you safe. Finding a reliable fire escape ladder is important for safety of everyone. If you haven't already got it, it is the right time to get it.
Here are some of the reasons why every home needs an emergency rope ladder:
Great for Making an Emergency Escape
A portable, rope ladder is a perfect way to escape a fire situation. Some buildings have permanent fire escape ladder. A portable offers a better option as they can be carried around. Suppose, there is a fire in the building and you don't have access to the permanent fire escape stairs or ladder, you can use your safety rope ladder. You can use it to escape from windows, balcony or any escape you can find.
When it comes to emergency fire exit, a rope ladder can come in handy. It is easy to use and specifically designed for emergencies. Having a fire escape ladder at home is an added advantage.
Easy to Use and Store
One of the best things about rope ladder is that they are easy to use. Unlike metal or wooden ladders, rope ladders are easier to store. They are foldable and potable, which means you can easily store them under the bed, on the cupboard or anywhere you want. It doesn't take much space and is easy to use, and you can use it as many times as you want.
Having a portable rope ladder gives you the option to quickly escape a burning building. A single rope is enough to support multiple people. This means, at least 4 people can climb down the ladder at a time. It will give you enough time to escape fire and ensure everyone's safety.
A Rope Ladder is A Better Option
When it comes to choosing a fire escape ladder, rope ladder is an excellent option for various reasons. Other options are good too but rope ladder offers some great features and added advantage. Here is why you should choose a safety rope ladder:
Durable – Rope ladders are durable and long-lasting than others. In fact, they are more durable than other options as they don't have to stay outside to bear the elements every day. Plus, they are made from high-quality materials and can last for a long time before showings signs of wear and tear.
Can Hold Lot of Weight – Rope ladders are designed to withstand weight easily. In fact, ISOP emergency rope ladder can support over 2000 lb weight. It means at least 10 people can climb down the ladder at time. This makes it an excellent for emergency fire exit.
Lightweight and Portable – Rope ladders are lightweight unlike the iron or wooden ladder. They are very portable as you can easily carry them around. Its lightweight nature also makes it easy to use. You can also use ISOP ladder for various purposes other than fire escape.
It's fireproof – One of the things that make rope ladder so great for fire escape is that its fireproof. This is such an important feature. The last thing you need when escaping fire is to see your ladder burn down. Which is why, a rope ladder is a perfect option for homes.
Rope Ladders are Good for Tall Buildings
If you live above 10 feet or 20 feet, you need a ladder that can reach the ground from there. Thankfully, you can choose a rope ladder for 13th or 25th floor. When escaping fire, a rope ladder will help you reach safety efficiently. You cannot always rely on the permanent fire escape ladders. Having a portable, emergency rope ladder can give you confidence and faith that you and your family can escape fire easily. A reliable fire escape ladder is must for every home.
Buildings have fire escape. But that doesn't make things easier. Having a backup is always a good thing for homes and offices. Being ready for a fire emergency is a smart thing to do. Having a portable, rope ladder is one of the best ways to stay prepared for a fire emergency or for any type of escape scenario.
The Bottom Line
Emergency rope ladder is must for every home. If you live in a tall building then a rope ladder is must for emergency fire escape. Safety rope ladder will help you stay prepared for the worst time. It is easy to store and carry around. This feature makes it an excellent choice for homes. Make sure that you invest in a good quality safety ladder and enjoy peace of mind.
ISOP brings you the best Emergency Rope Ladder, designed to help you escape from a 13th or 25th feet high building in case of fire. It is a portable, durable, and fireproof escape ladder that can help you in emergencies. But you can also use them for other purposes too like for playground. We ship to many countries.
Check out the details here – https://isopllc.com/usa/