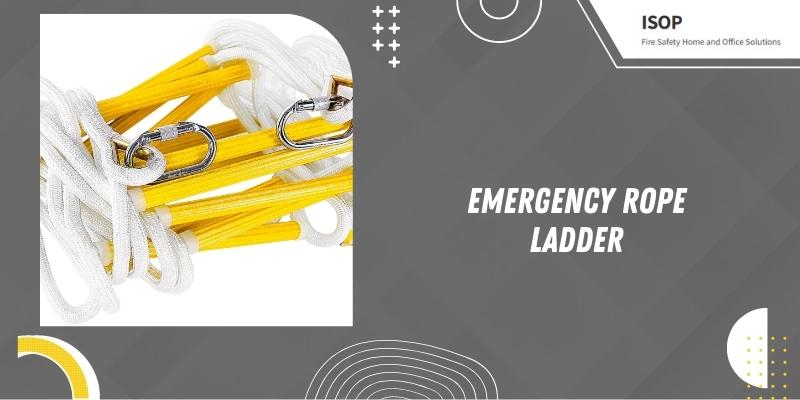 Every structure, whether residential or commercial, should include an emergency escape ladder. In the event of an emergency, it assures the safety of you, your dear ones, & your coworkers. There is always the possibility of a fire spreading out, & these ladders provide an excellent escape route if one does.
People are often afraid of utilizing the emergency escape ladder because they are afraid it may collapse. You may reduce this worry by assessing how much weight an emergency escape ladder can bear and then using it to climb to safety.
Fire Escape Ladder Minimum Weight Ratings
The type of emergency escape ladder you employ impacts the amount of weight capacity it can provide. A good fire escape ladder must be able to sustain at least 500 pounds. A stronger ladder for several people should be able to handle 1,000 pounds; that's more than enough for 3 adult men to utilize at the same time.
It is critical to have an immediate fire escape strategy in place that includes safe routes to an emergency ladder. According to the National Fire Protection Association (NFPA), house or office fires cause an aggregate of 2,620 civilian deaths & 11,030 injuries per year. The deaths are mostly the consequence of individuals failing to flee the premises in time.
In general, you have around Two minutes after the fire has started to flee before the fire spread too far for you to escape. You can use an emergency escape ladder to aid you with this evacuation, but you must be careful not to overload it. Putting too much weight on your ladder increases the chance of it collapsing, putting everyone's life in jeopardy.
We've included the most often used ladders and their weight capacities below to assist you in choosing the correct emergency escape ladder for your property. We also went through some key characteristics so you can figure out which ladder is right for you.
Different Types of Fire Escape Ladders
Here are some of the most secure emergency ladders available.
Outside-mounted fold-out escape ladders:
The fitted fold-out emergency ladder is a popular option that you've certainly seen in several buildings in your area. It can sustain a weight of up to 660 pounds on each floor, making overloading almost difficult. This emergency escape ladder also comes with a 15-year warranty and is extremely simple to install outside any house.
Because these ladders are positioned outside, the material is carefully developed to be weatherproof& corrosion resistant. They are extremely sturdy, with a maximum ladder height of 10 meters.
Portable Emergency Ladder with 'C' Hook:
A portable emergency ladder containing a hook and a total load capability of 990 pounds is the second option. These ladders are often composed of aluminum, making them lightweight while still providing a solid escape path. Your portable emergency ladder is meant to fit almost all window frames & has anti-slip rungs for enhanced safety.
The nicest feature of these emergency escape ladders is their ease of storage; when not in use, they can be folded up and kept under your bed or maybe in a closet near the window. If a fire breaks out, you may swiftly fetch the ladder & deploy it for usage within seconds.
Portable Escape having Carabiner Hooks:
Finally, we have a transportable ladder having carabiner hooks that really can resist loads of up to 925 pounds. These simple-to-assemble ladders are suitable for both adults and children. They are great for two-story residences and business buildings since they take up less storage space. The major advantage of these portable escape ladders is that they do not require any particular tools and instructions to be deployed. As a result, they are extremely light & do not require any difficult actions to be followed.
Rope Escape Ladders:
For multi-story homes, an emergency rope ladder is a piece of must-have safety equipment. It is really easy to set up & operate. The emergency rope ladder is designed to be attached at the top with hooks and carabiners, then unfolded to fall to the earth below. The ropes link rungs constructed of non-slip materials to provide you with a firm grasp while you flee the flames. People can safely avoid danger in an emergency by extending it out a balcony or over a window and then descending the emergency rope ladder.
Rope emergency escape ladders are also useful for outdoor activities like swinging from a treehouse or as part of just an athletic challenge course. Mountain climbers utilize emergency rope ladders to scale cliffs & glaciers. Such rope ladders are extremely portable and may be used in a variety of ways.
Check Your Emergency Escape Ladder to See if It Can Handle the Load
Now that you understand how much load an emergency escape ladder can support, it's time to put it to the test. This practice will provide you with an additional piece of mind, realizing that the ladders are completely operational & can be relied on in an emergency.
The first step is to perform a complete visual check of the emergency escape ladders every 6 months. This involves inspecting all of the bolts & supports to verify they are not damaged and that all of the mechanical parts are in working order.
This must be accompanied by a load test, which should be performed every 4-5 years. Professional engineers and testing firms should execute the load test, which includes stress testing. They will put your stairways & ladders through their paces with a weight of over 220 pounds per square foot to see how well they hold up. If your emergency escape ladders fail the test, their state will be evaluated further to determine whether they require structural repairs and replacement.
Conclusion
Fire escape ladders, as helpful as they are, can be difficult to operate. As a result, it is usually advisable to test them beforehand. Conducting safety exercises will ensure that everyone in the building understands the proper protocol to follow in the event of an emergency. Furthermore, if you use a portable ladder, keep it near the window & name it so that anybody can readily access it.
Call to action:
Our emergency escape ladder is heavy-duty, ensuring a secure grasp and supporting up to 2500 lbs. The best thing about purchasing with us is that we have a return & refund policy that lasts up to 30 days. What more would you ask for? If you have any more questions, please email us at isopllc@gmail.com or use the contact form on our website. We will get back to you as soon as possible!