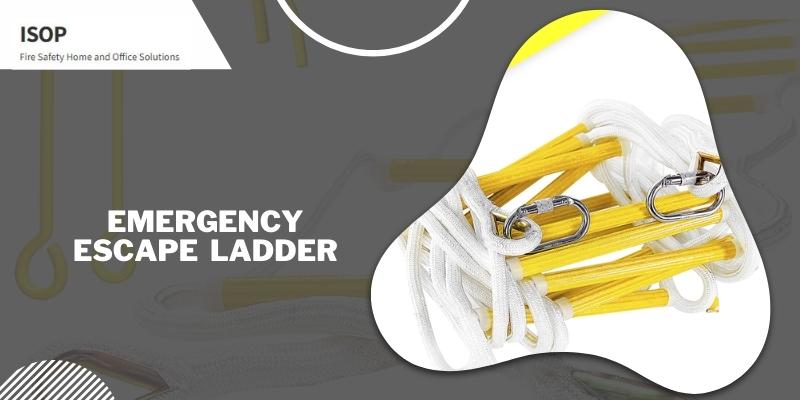 Fires can be devastating to your home or place of business, which is something no one wants to think about. Nevertheless, in many cases, a bit of prevention &precaution can significantly reduce the damage caused by such fires and save lives. Even though restoring property is relatively easy, life is a more valuable commodity.
It's essential to have escape options if a house is on fire, but most houses don't come with an escape plan. A safe exit from your home is your responsibility as the owner. The best way to flee to safety would be to use a portable fire emergency escape ladder or an emergency rope ladder.
In a house, every room should have at least two escape routes. In most cases, one of these routes will involve a window. There's a good chance you'll need an emergency ladder for any second-floor window (or higher).
Why do you need an emergency escape ladder?
1. Customizable to the Requirement
There are almost as many types of fire emergency escape ladders as there are types of buildings for which they are used. A wide range of styles are available and can be selected depending on the need, type of building, and anticipated load. Multi-story buildings sometimes have steel staircases attached to the outside that are used for fire escapes. They are typically found in multi-family housing &office buildings, where they are designed to facilitate quick, speedy escape for people on upper floors in case of fire. Custom ladders can be constructed to match the architecture of the building and its size. A ladder that rolls up and stows away beneath a window is also available for residential and business use in buildings with a maximum height of three floors. They occupy little space but provide a second escape route should a fire begin. 
With the emergency rope ladder, you can be sure that you can safely exit your three-story home in an emergency
2. Gives Safe Exit Options
When a fire breaks out on a lower level of a multi-story building, those trapped on upper floors are often cut off from escape routes because they are unable to escape the fire. The building's usual routes of exit may be blocked off by heat & smoke, which is a terrifying prospect. Because fire escapes like emergency ladders are located outside the building, they provide an excellent way to escape the confined heat & smoke. People who live on upper floors can escape from the fire even as it burns inside.
3. Prevents additional injuries
While trying to find another exit, many people suffer injuries and die. It can calm panic & ensure more people get out effectively & efficiently if you have an emergency escape ladder on the second floor of your home.
Key features for home fire escape ladders
Before buying escape ladders or emergency rope ladders, consider these important features into consideration:
1. Length
Ladders for escape from fire typically come in either 15 feet or 25 feet. Depending on the floors the ladder will serve, determine the ladder length.
2. Strength
Ideally, fire escape emergency ladders should be able to bear a weight of 1,000 pounds or more.
3. Size
Check that the emergency escape ladder fits through the window where you plan to use it. Several models can be adjusted, but remember to take the measurement of the width of the windows before you go shopping.
4. Ease of use
See which model is easiest to use by trying different models. Those who unfold without much fuss are at an advantage during a fire since you'll need to move quickly.
5. Standoffs
Standoffs allow you to keep your emergency rope ladder from getting too close to the wall of your house, which is crucial if there is a fire that increases the temperature of that wall. Standoffs also support keeping the ladder in a steady position. Good ladders have standoffs.
6. Anti-slip
An anti-slip rung is an essential feature for children & adults who have mobility issues.
7. Storage
Check to see if the emergency ladder you choose can be stored easily and does not take up a lot of space.
8. Heat resistance
When the temperature is high, nylon rope used in some fire escape ladders can melt. If you use a ladder, make sure all parts are heat-resistant.
9. Reusability
There are cheap emergency escape ladders that can be used only once. Practicing with your ladder is important, so this is not ideal.
10. Testing
It is a good idea to check if the emergency rope ladder has been tested by an independent certificated organization.
11. Price
Prices for fire escape emergency ladders vary. Unless it possesses the key features noted above, do not just buy the cheapest option. Any ladder is definitely better than none if affordability is a concern.
Conclusion:
The role of an escape ladder is, no doubt, very important for ensuring the safety of life from fire accidents. Selecting the right product should be done according to the needs of the buyer. In general, it is recommended that each window (especially the ones on the upper floors) should have an emergency escape ladder. An important factor to consider when purchasing a product is its length, size, durability, and tensile strength.
Do you want to buy an emergency escape ladder for your home? So, what are you still waiting for? Visit ISOP. We at ISOP believe all families should have an emergency fire escape ladder. All types of ladders can be found in our store. They are affordable and will meet all your requirements. In case you need any help, please text us on WhatsApp at +17866579215.