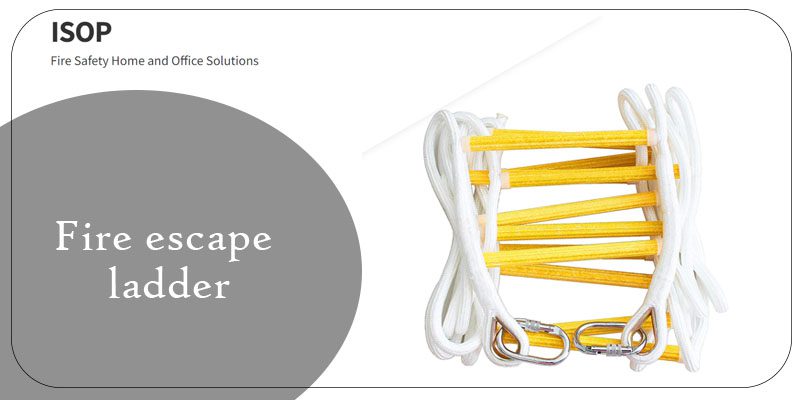 No one would want to consider the possibility of a devastating fire at their place of business or home. Having said that, it is always good to keep precautions such as a drop down fire escape ladder; after all, as the popular quote goes, 'Prevention is better than cure. A bit of forethought and prevention surely goes a long way towards mitigating the damage caused by such fires and saving the lives of people. A property can be restored easily compared to people's precious lives.
Fortunately, the evolving times have given us many safety features such as illuminated exit signage, fire alarms, fire escape ladder, and sprinkler system that have proven to improve the chances of survival on the off chance there is an unfortunate fire incident. Thus, you can find these devices being available everywhere in the present era.
The humble fire escape ladder has proven to be a quite helpful tool as it is the key to saving lives in multi-storeyed buildings. Whether it is attached to the building or deployed from storage when required, these ladders have proven to be a lifesaving tool in case of fire. Keep reading to learn more benefits the tool offers:
1. Caters to the customization of individual's requirements
A drop-down fire escape ladder is available in different varieties, as diverse as the types of structures it is deployed upon. Based on the types of structure, requirements, and expected load while deploying, various styles of ladders are available.
Some ladders are steel staircases fixed to the external part of a multistorey building. They are commonly found in office buildings and multifamily residential buildings as they offer a speedy exit to the people on the upper floors in case of fire breakouts below. These ladders can be customized for complementing the way the building is.
Apart from this, there are also ladders that roll up and stow away below windows and are particularly designed for residential and business buildings that are three stories or less in height. Though they take up less space, they also offer extra escape routes during fire breakouts.
2. Offers Safe exit options
If a fire has started on the lower floor of a building, it can potentially cut off escape avenues for people stuck on the upper floors when the blaze breaks out. This is one of the most dangerous aspects of a fire in a multi-story building. It is quite terrifying to think about, so you should be realistic as smoke and heat can prevent people from exiting from the usual exit paths. However, a reliable fire escape will offer a suitable escape option as they are deployed outside of the building, away from the confined smoke and heat. Though the fire burns inside, the external path on the fire escape is still open for people on the upper floors to escape.
Also Read: Best Fire Escape Ladders 2020
3. Convenience of application
It is important to have a fire escape plan for your homes. What is more important is considering that you might not be present when a fire emergency occurs. So it would be best if you taught young children and other members of the family of your place about fire escapes. Employing a ladder that is convenient to deploy implies that your loved ones are capable of protecting themselves even if you are not there during a fire.
4. Prevention of additional injuries
During a fire emergency, many succumb and become subjected to multiple injuries, unsafely looking for another escape route. A fire escape ladder on the second floor of a building will pacify the obvious panic and allow people to escape from the building efficiently and effectively.
You can install these ladders permanently in the wall beneath the window. If you keep the tools just below the exit point, people can get out of the home safer and faster than before.
You can incur some benefits if you employ a good quality fire ladder. Now, you must be wondering what kind of ladder would be ideal for escapes. So let's talk about that.
Best Raw Material For Fire Escape
A wide range of raw materials is used to make fire escapes. Rope happens to be the cheapest option. It is one of the oldest ways of making fire escapes. Generally, these escapes are kept near where the emergency exits. So during emergencies, people can hang from the emergency window or exit door.
Fireproof plastic is another material that is used for making fire escape ladders. As the name suggests, this material is resistant to fire at a certain temperature.
Metals are considered the best material for emergency exits and fire escapes as they last for a long time and are a safer alternative. Therefore, they have vital importance when it comes to precautions against fire. Usually, these metal fire escapes are made from galvanized steel, stainless steel, or quality wrought iron. In addition, most fire escape ladder manufacturers make the ladder out of metal as it is safe and durable.
Conclusion
If you reside or frequent a multi-story building, it is important to install a fire escape ladder that best suits the building's style, size, and use. When you consider the numerous benefits associated with the ladder and its life saving potential, you will realize the cost of installing them is fully justified.
Call-to-action
Are you looking to buy a reliable drop-down fire escape ladder? ISOP LLC should be your go-to option. We are a one-stop destination of all types of fire-l evacuation retractable rope ladders that come in different sizes and shapes based on the height of a building. We offer our customers the best products made from top-notch materials to ensure they are safe on the off chance of an unfortunate accident or fire. So why wait? Buy from our wide assortment of fire escape ladders to stay protected. To connect with us, you can WhatsApp us at +17866579215.