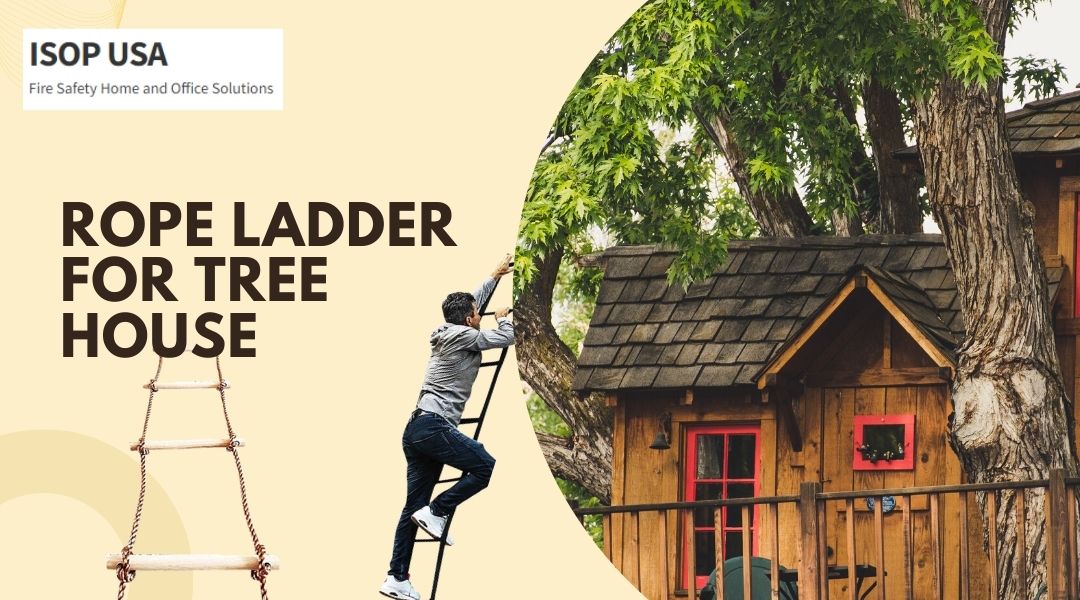 Having a tree house is a great fun, especially for kids. It is a place where kids can have fun, and build their own world. Parents can use the tree house to teach them many skills like creativity and innovation. But there is one thing that concerns every parent: treehouse safety.
Tree house safety is very important. While it is fun to have a tree house, there is always a risk of kids getting hurt. Which is why, it is important to take steps to ensure treehouse safety. Such as, using rope ladder for tree house that is made from high-quality material and is designed for safety.
Find out how you can ensure tree house safety in a few easy steps.
Why People Have Treehouse?
Kids love their tree house. It is a place where they can spend time playing on their own or with siblings and friends. Parents like having a treehouse as it provides their kids with an outdoor activity. Kids like to play outside and a tree house is an excellent way to provide them with playtime.
Compared to other options like TV or playing online games, a tree house is an excellent choice. It will not only keep them entertained, but it will also team them skills like learning about nature, independence and more.
Its not just the kids who love a treehouse. Even adults like tree house. It takes them to their own childhood. So, having a tree house benefit everyone.
Also Read: Best techniques to easily climb down a rope ladder
What is the Risk?
Building a tree house needs effort and consideration. And, one of the important considerations is safety features. Climbing up and down can be risky. Parents can use a safety role ladder to make it easier and safer for the kids.
There are tree house safety risks and you should be aware of it. It includes:
Falling from the tree house while climbing or coming down. Approximately, 2,800 children are treated for treehouse-related injuries.
Boys are more likely to jump or fall from heights than girls.
Most common tree-house related injuries include cuts, bruises and bumps.
Shoulder, neck, arms and heads are more likely to be injured during the fall.
These are some of the risks associated with tree house. But with the right safety features, you can ensure greater safety of the kids.
Treehouse Safety – Making it Safer
You can make your tree house safer for kids in many ways. Ensuring safety is important, so that kids can have a great time playing without the risk. Also, it will give you peace of mind.
Here ae some effective ways to ensure safety of tree house for kids:
The first thing you need to do is choose a strong, sturdy tree to build your treehouse. Make sure to choose a tree that has strong trunk and branches. Also, choose the sturdiest branches to set-up your tree house. Many houses have trees that are many years old and have a string base. Some people prefer making an independent tree house without the tree. Choose whatever works for you.
Make sure that the tree house is not too high for the kids. Keep it to medium height so that kids can safely climb up and down the tree house without any hassle. Kids who are afraid of heights will prefer a tree house that is not too high.
Rope Ladder for Tree House
Climbing up and down the tree house poses the greatest risk. To make it safer, you can choose a rope ladder. A rope ladder is not only sturdy, but they are also durable, and easy to use. You can use a fire escape ladder to safely get up or down the tree house. ISOP safety rope ladder for tree house. Made from high-quality materials, ISOP ladders are designed for efficiency and durability. It is easy to use and store. For instance, you can store them under the bed or shelf or bag.
The Bottom Line
A tree house is a great addition to any home. It provides kids with something they can enjoy playing in, every day. But ensuring safety of kids is also important. You can easily make the tree house a safe place for kids in many ways. Using a rope ladder to make climbing up and down easy is one of the best ways to ensure safety. In just few easy steps, you can easily make treehouse safe for kids.
ISOP LLC offers safety rope ladder for tree house. Our ropes are designed for multiple purposes including fire escape and for tree house. They can be used for 13th or 25th feet high building. They are fireproof, slip proof and made from high-quality materials. Check out the details here – https://isopllc.com/usa/