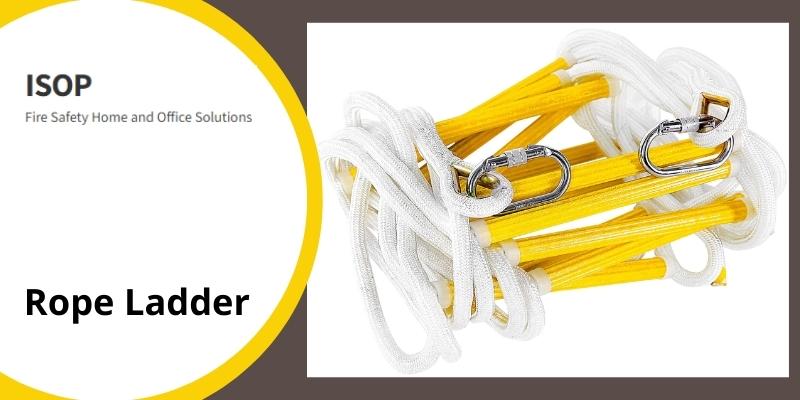 An emergency exit rope ladder is a must-have for people who reside in a house that's more than a single story. For instance, if a fire breaks out while you're sleeping with your family at night, you need an emergency rope ladder to get your family out of the fire zone safely. One of the preventive measures you shall take for your home is to get the right rope ladder for the emergency exit. 
Since the rope ladders are available in different sizes and lengths, you must wonder what factors to consider while purchasing a rope ladder. How to get the perfect one that's suitable for your place? Well, that's all we're going to discuss in this guide further. Read on. 
1. Stories of your Building
The structure and design of your home play a major role in determining the best rope ladder for an emergency exit. Although there's no saving from minor injuries while escaping through a rope ladder, having a perfectly sized escape rope ladder in place drastically reduces the probability of getting injuries.
You have got two options in the market. Ropes are designed for two-story or three-story buildings. The two-story rope ladder for fire escape works best for Cape-cod-style houses and raise ranch. On the other hand, three-story rope ladders are suitable for townhouse, colonial, and farmhouse styles. 
2. Weighing capacity and weight
The escape ladder must be built in a way that all your family members can safely use it. Being quite heavy, the previous designs were not suitable for physically disabled people and seniors. The latest designs are easy to use as they're quite light-weighted.
Most of the rope ladders are fabricated using nylon ropes that deliver outstanding tensile strength minus the weight. Plus, steel rigid rungs and hard resins further contribute to the strength of the rope ladder.
Also, remember to pay attention to the overall weight a ladder can carry. Rope ladder manufacturers state the overall weighing capacity, i.e., when numerous people are trying to climb down. So, carefully scrutinize this factor. 
3. Safety features
Although almost all fire ladders are built with the same technology, some emergency rope ladder come with added safety features. They come fitted with a safety harness to ensure your feet and waist are secured to the rope ladder while climbing down. This eliminates the chances of slippage of your feet. 
Additionally, some ladders also come with deploying straps that quickly help in the positioning of the hooks to the window while dropping down. It eliminates the chances of getting entangled while you're dealing with an emergency. 
4. Budget
Spending a lot of money doesn't make sense if you're planning to get a rope ladder for a fire escape for your home. Also, the fire escape emergency rope ladders are usually pretty affordable. It might cost you a little extra if you wish to get separate rope ladders for various rooms at your residence. 
Also, it doesn't mean that you're compromising your safety while going for a low-priced option. They work just fine to meet the residential requirements. So, go for low-price ladders instead of burning a hole in your pocket. 
5. Hooks
The rope ladder can be secured to the window in three ways: carabiners, lag bolts, and hooks. Let's look at the distinct characteristics of the three methods.
Carabiners: These types of fire escape usually come to aid during rock climbing. It's the most suitable option for people with three-story buildings with balconies having steel railings. 
Lag bolts: With a lag-bolted rope ladder, you can act quickly as it saves you a lot of time. The ladder is equipped with a metal box screwed to the wall below your window's framework, ready to drop down within a minute. This method is also escorted by unmatchable security and sturdiness. 
Steel hooks: Rope ladders with steel hooks can easily slide over window sills having two by 6 or 2 by 4 inches. They offer instant installation without requiring any permanent alterations to the interiors of your room. 
Conclusion
Essentially, the emergency exit ladders are a necessity for houses having more than one storey. You always have the option to run out through the door or to jump out of the window when you reside on the ground floor. But, those who reside on the ground floor will often face complexities. So, to deliver the utmost safety and security to the family members who reside at the top, you should install an emergency rope ladder as soon as possible. 
Are you looking for a good-quality rope ladder for fire escape? In that case, ISOP is here to your rescue. You can find an entire series of fire escape ladders at our site. Our ladders have been designed to keep the unique situations our clients might face in mind. All our products are priced reasonably. At the same time, they can effectively cater to all your requirements. For further queries, you can contact us via mail at isopllc@gmail.com or call us at + 17866579215.