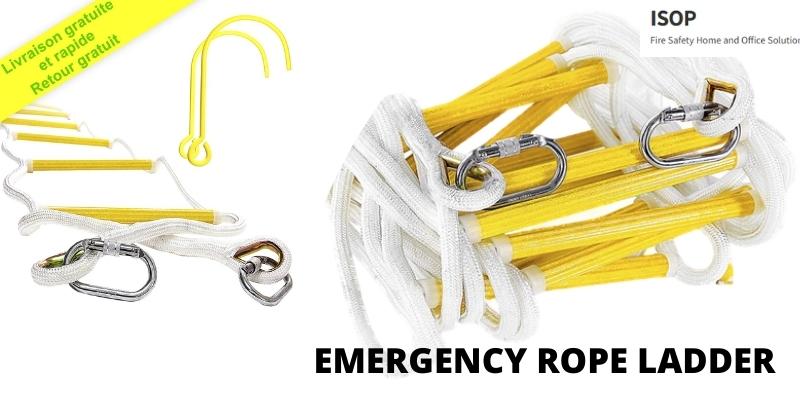 Fire escape ladders might seem like props brought straight out of an action movie, but they come to the rescue when a fire breaks out, and your life is in danger. The death rate soars as high as 75% of the total deaths in home fires within two minutes of the fire breakout. Therefore, it's advised to escape the building that was set on fire before that time period. Otherwise, you're going to lose your life.
One of the essential safety measures you can take is having an emergency rope ladder in place for immediate escape. However, sometimes when you're in a panic state, things go wrong, and fire escape ladder accidents tend to happen. This could also be a result of a poorly built escape ladder. Let's find out how we can avoid that.
Tested and Professionally Built Escape Ladder
While going fire escape ladder shopping, buy a ladder that has been put under stringent quality test before making it to the market. You can find out whether or not it has been laboratory tested from the label.
If your house already has an escape ladder, test it. See whether it slides down from the window smoothly or if there are any obstacles in its way. If you find any trouble, call your building's management to fix it immediately.
Stack them Near the Window
Since the ladder is supposed to be suspended from the window, it's strongly advised to keep it nearby. We bet you don't wish to waste your time searching the ladder in an emergency. As mentioned earlier, it takes as high as two minutes for someone to lose their life. So, every second counts when you're stuck in such a situation.
Having the rope ladder for fire escape placed nearby the windows allows you to act quickly. 
Must be as High as Three Stories
Do not make the mistake of buying a fire escape ladder that exceeds the height of three stories. Their structure is not constructed to cater to long apartments. There are high chances of the ladder breaking when people from different stories start climbing down the ladder at once.
If you slip and fall, the injuries could be severe. The ladder must extend to as high as three stories. From the third storey, a separate fire escape ladder must be suspended. People can zig zag through the ladder and land safely.
Legend has it; practice makes every man perfect. You should remain prepared when an emergency knocks at your door. So, start preparing with your emergency rope ladder. Practice and make your family members practice over and over again. 
You can begin by taking out a blueprint of your escape route and sticking it on a board in the hallway. Memorize and practice all measures you'll take if you were to leave your building hypothetically.Make sure the ladder perfectly fits the wall and that you feel comfortable while climbing over it. Also, if there are any obstacles on your way down, such as fencing, external cabling, puddles of water, etc., you should learn to find your way around them safely.
Don't Solely Rely On the Ladders
A strong fire escape plan includes numerous types of equipment involving an evacuation strategy, fire extinguisher, smoke alarm, and an escape route. All such measures combined will help save your life. In an emergency situation, any one of them might fail to come to your aid. So, you should have alternate plans on which you can rely.
It's always better to have multiple escaping resources instead of relying on a single one. If anyone in your family is handicapped or has any other physical disability, he or she cannot rely completely on a rope ladder for fire escape. An alternate option has to be there.
Conclusion
The fire escape ladders are not much dangerous if you know how to use them appropriately. We're not saying that fire escape ladder accidents are bound to happen. We are just warning you in advance and mentioned some tips and tricks above to ensure there's no additional mishap in an emergency. Make it a point not to use the emergency rope ladder as a decorative piece in your house. Keep it nearby your exit route in a crisis.
ISOP deals with a high-quality rope ladder for fire escape. Our fire escape ladders have been professionally designed using the latest techniques in the ladder industry.Some characteristic properties of our ladder include lightweight, compact, reusable, multifunctional, fireproof, portable, and tear & weather resistance. Apart from rope ladders, we also flaunt emergency evacuation devices for your little furry friends and pets. So, ensure the safety of your family by using our products. For further queries, you can contact us via mail at isopllc@gmail.com or WhatsApp us at +17866579215.