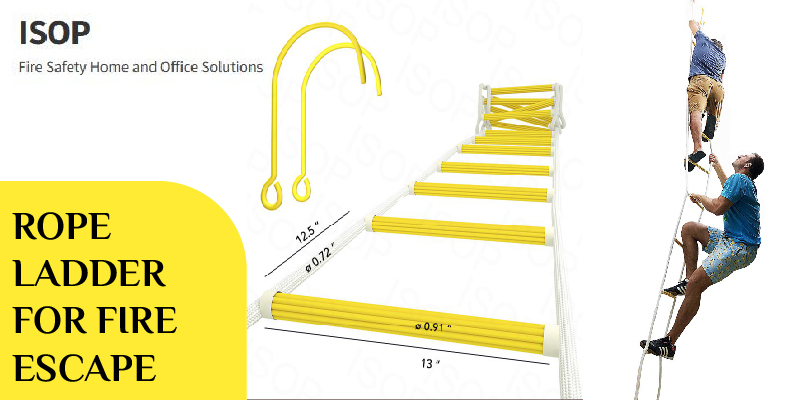 Catastrophic situations may knock on your door at any day and minute, regardless of whether you are prepared. In case a fire breaks out at your home or your office has been seized by burglars, you should have protective equipment to get everyone out of the situation safely. And that safety equipment is an emergency rope ladder.
A rope ladder is an essential piece of equipment that can save many lives during a crisis. Earlier, the building used to have metal ladders attached to the building. But, now, rope ladders have been introduced. And studies have shown that people prefer rope ladders compared to a metal ladders. Why is that? Let's find out.
A fire breakout can devour your entire house within two minutes- sometimes even less. So, it would be best if you were very quick with your action. The rope ladder for fire escape has been designed considering the level of accessibility and convenience needed at times of emergency. Unlike other emergency ladders, the rope ladder doesn't need additional installation tools. Gone are the days when you had to refer to the manual guide to assemble the ladder. Hence, it offers hassle-free installation within seconds.
All you need to do is deploy it through your balcony or window and climb down the ladder immediately. It's adult as well as kid-friendly. The rope ladders are usually designed to extend to as long as three stories. Fortunately, that's the ideal length. If the rope extends beyond that, you might face trouble.
Given the lightweight and compact design, the rope ladder is highly preferred in the present world scenario. It's not going to capture much space in your house like the heavy metal ladders that capture an entire corner of your space. You can put the rope ladder below the bed, inside your cupboard, or hang it around the window for quick deployment.
Rope ladders are so light-weighted that even a 13-year-old kid can carry them, unlike metal ladders that require at least two to three people to transfer from one place to another. When a crisis arises, you can quickly take it out and throw it out of the window. It takes as long as 2 to 3 minutes to use it.
An emergency can arise anywhere and anytime. Keeping this in mind, the emergency rope ladder has been designed in such a way that it can fit easily into any window or balcony. It's the safest and most convenient way out. Regardless of the size of window frames and balcony railings, the rope ladder fits easily without any last-minute malfunction.
The rope ladder is fitted with sturdy hooks, which makes it an ideal choice for school, residential buildings, offices, and hotel rescues. You also have the option to hang it beforehand using anchors for immediate access during an emergency.
The structure of a rope ladder needs to be sturdy and durable as it's supposed to battle the fire. Fire cannot damage it at all because it's flame-resistant. However, this doesn't imply that you can place it directly in flames. The straps are fabricated using nylon that is quite light-weighted yet very strong. The metal rungs also contribute to its sturdiness.
Also, the rope ladder is built to be weather resistant. This allows you to place it outside in the garage or on the balcony. Moisture, heat waves, sunlight- nothing will damage it. It's so strong that it can bear the weight of as many as ten people at once, obviously, if they aren't all standing on one rung. One rung can bear as high as a thousand pounds easily.
Conclusion
Now that you know all the properties that set the rope ladder apart from the metal ones, it's time to make a decision. While not being too heavy on your pocket, rope ladders are a great choice for ensuring the safety of your loved ones. The non-slip rungs and tangle-free construction enable the safe evacuation of adults and kids alike. So, what are you waiting for? Rope ladders are worth investing in. Get your rope ladder right away!
 Are you wondering who the best vendor of a rope ladder for fire escape is? Think no more. ISOP is here to help you battle emergencies. It's a one-stop destination for all your evacuation-related requirements. We offer a variety of rope ladders in different shapes, sizes, and price ranges to choose from. All the raw materials used to fabricate the rope ladder are of the highest quality and sourced from reputable vendors.
With our rope ladders, your evacuation process will become quick and easy. The safety of your family is our responsibility. Buy from us right away to ensure your family's safety. For further queries, you can Whatsapp us at +17866579215 or fill up and submit the form available on our website.